About
The following is a summary of the Emotion Mood Sensing Ring journey as of November 5, 2017.  This section of our site will be updated as we clear each new major project hurdle.
Our Story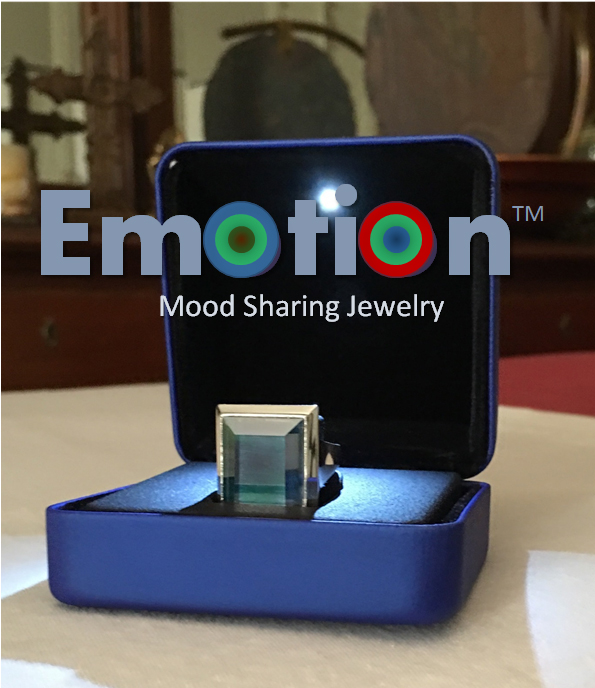 Silver Mood Sensing Ring
What is old is new again: though this time with an innovative twist! Our Emotion Mood Sensing Jewelry™ project starts with something old and adds a large dose of today's technology to make something that is altogether novel. Emotion Mood Sensing Jewelry combines the iconic, 1970's mood ring with today's wireless, sensor and mobile apps technologies to define an entirely new wearable market segment. Our Mood Sensing Rings connect to smart phones and other similar devices to power an emerging category of software called emotive apps. Emotive apps better understand our needs and by doing so may make smart devices exponentially more useful to us. Example emotive apps include video games, which adjust in difficulty based on the emotional state of a player, and music players which change their playlist order based on a wearer's current mood. 
Our story begins in the 1970s--a uniquely disruptive decade which was punctuated by war, civil unrest, a longing for peace and immense social change. Beyond space travel, the 1970s gave birth to a number of other noteworthy technological advancements which still reverberate today. The ARPANET, the precursor to the Internet, was expanded to allow host computers on the west coast for the first time to communicate with peer computers all the way on the east coast of the United States. The liquid crystal display (LCD) was invented and quickly became a corner stone for visual communication; a position that it continues to hold. Moreover, the LCD made it possible to produce the first mood ring. More than a fad, the mood ring remains a long lasting pop culture phenomenon.
Inspired by our vision of the Emotive Internet, wherein biosensors and software algorithms combine to enable the real-time detection, recognition and sharing of human emotion, Emotion Mood Sensing Jewelry develops, brands and sells high-end, luxury jewelry which is powered by Mood Sensing Sharing Device (MSSD) technology. MSSD technology was invented by project team member Tony Clark and is formally described in US Patent No. 9,064,390, June 23, 2015, titled "System and Method for a Novelty Mood Sensing Sharing Device."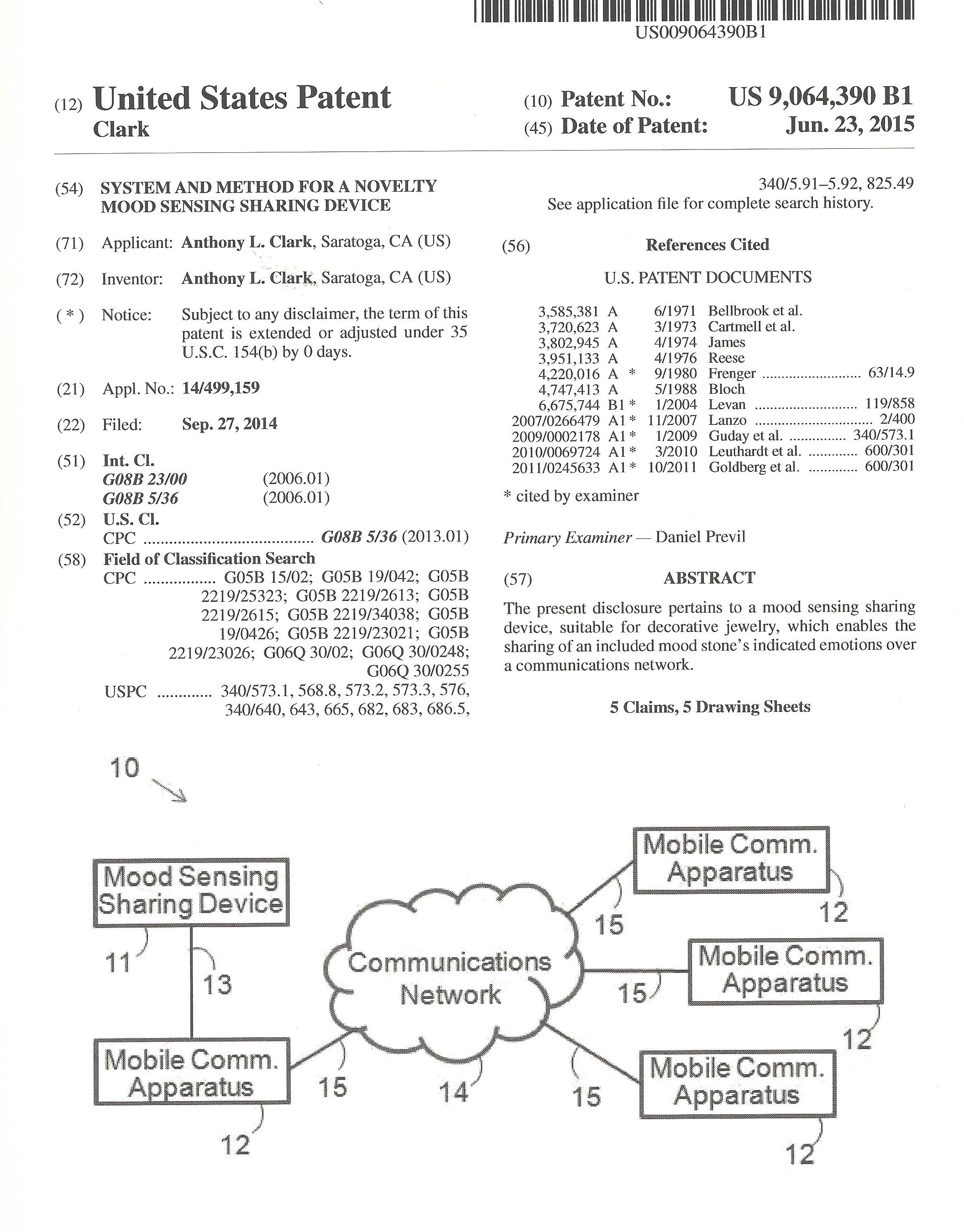 Mood Sensing Sharing Device and System Patent
We passionately blend high tech metals, crystals, silicon and software to create truly stunning, statement-worthy pieces.
Aquairius Mood Sharing Rings Preview Video
Each piece of mood sharing jewelry contains an MSSD, comprising a mood stone and an electronics subsystem (ES)—consisting of one or more biosensors, a microprocessor, memory and wireless connectivity. The MSSD is expected to be placed in the setting of all types of jewelry, including rings, bracelets, earrings, pendants, et cetera. Our first proof-of-concept prototype, produced in late 2015, is a sparkling mood sensing sharing bracelet. See Image Set (1) below. The bracelet was our first form factor for two primary and related reasons: development cost and the size of the electronics.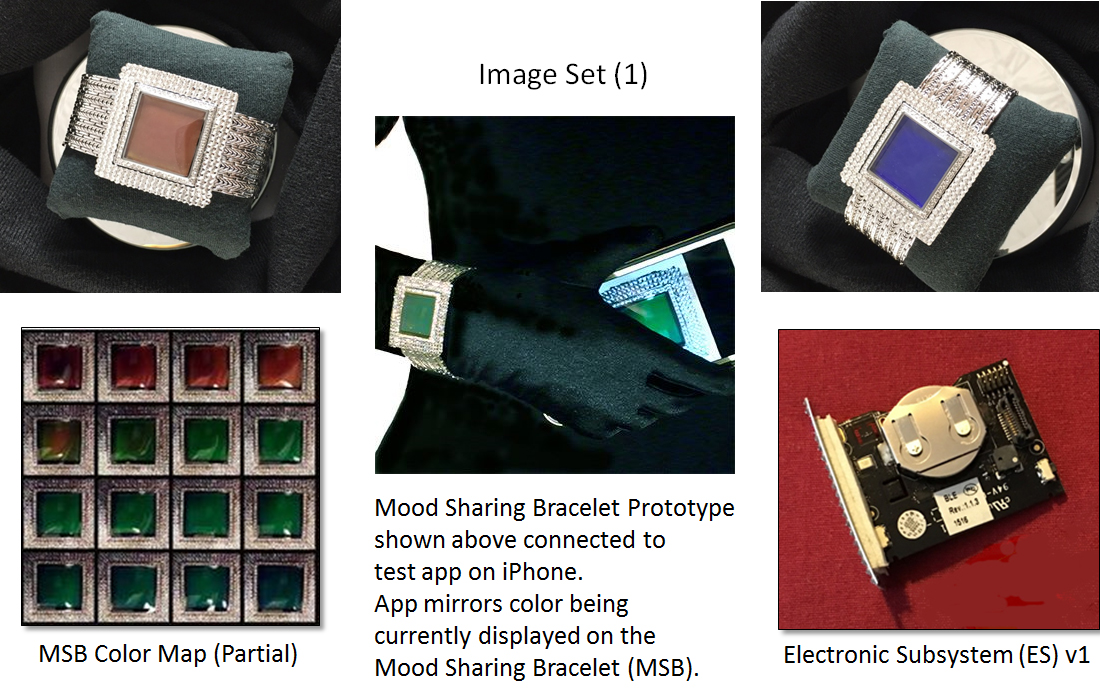 Regarding development cost, we may have big dreams, but we are a small company. Our size comes with advantages and disadvantages. Small size means that we can be more decisive, nibble and quick. Conversely, being small also burdens us with the reality of having limited discretionary financial resources. Thus, we are forced to work smarter and are constantly looking for ways to do more with less. Because of this, the pursuit of fully custom digital hardware, to implement the ES portion of the MSSD, was a non-starter. Going down that path would have easily set us back by several million dollars. 
Luckily, we found an "off-the-shelf" electronics development kit that we hoped we could shoe horn into a first design. The catch was that we had to design an attractive piece of jewelry around the physical size of the part. The roughly 42mm x 32mm x 7mm footprint of the development board severely limited the type of jewelry we could pursue. This practically meant that anything smaller than a cuff bracelet form factor was out of the question. Logic dictated it, so we decided to go down the bracelet path. The mood sharing bracelet prototype that is shown in Image Set (1) is an outcome of that decision. We configured and programmed the aforementioned development kit to implement ES version 1 (v1) for the bracelet's MSSD. Mood Sensing Rings, the next part of our story, would have to wait until a future version of the ES. 
Our mood sensing bracelet prototype is fully functioning implementation. It pairs with an Apple iPhone smart phone running iOS. A simple test application mirrors the mood color currently being displayed on the mood sharing bracelet on the screen of the paired phone. Our proprietary backend service coordinates the interaction between the mood sharing bracelet and the smart phone regarding the test app. See Image Set (1) and Image Set (2).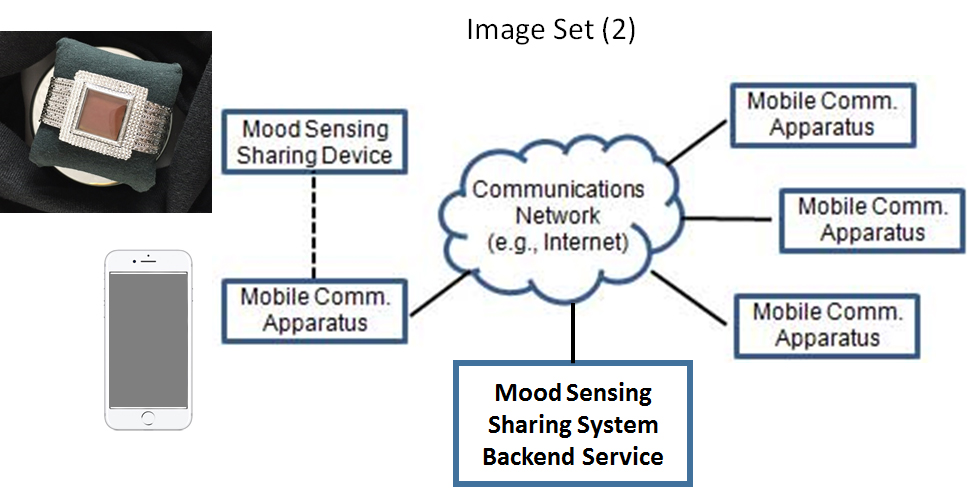 Though we came up with what we believe is a stunning mood sensing bracelet design, our own primary market research told us that what customers really want is the ring form factor. So, we went back to work and spent the past 18 months developing and prototyping the first set of mood sensing ring designs that are featured in our 2017 crowd funding campaign. Our primary design goal was to reduce the size of ES v1 to fit inside the cavity of a ring (chassis). This meant reducing the size of ES v1 by slightly more than 80%. See Image Set (3).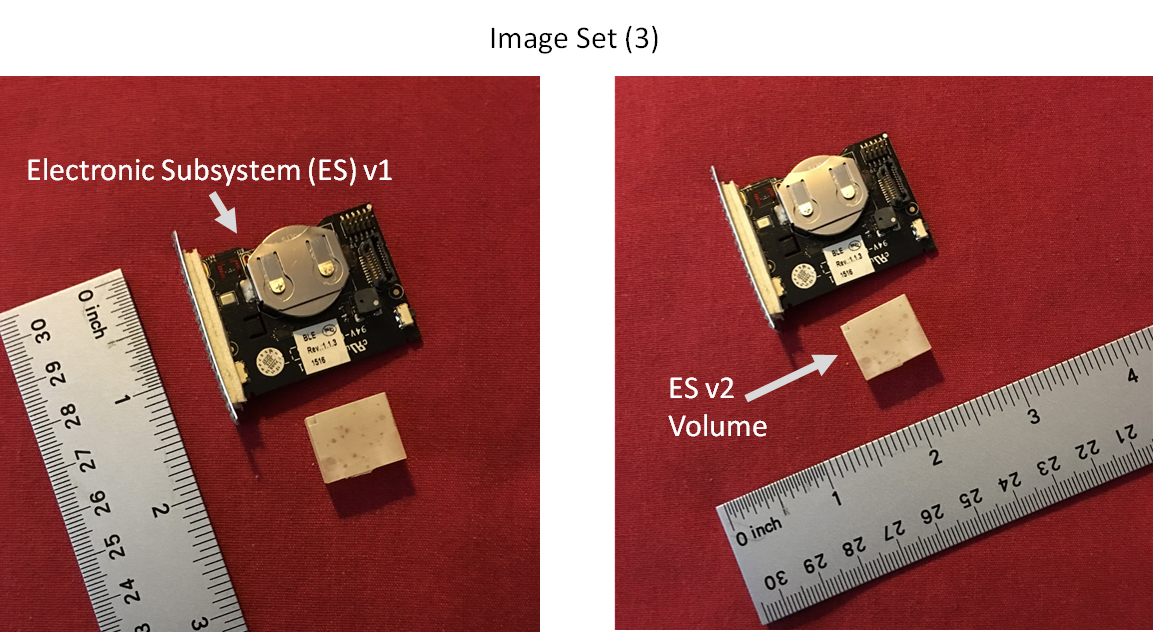 We settled on a semi-custom design for ES v2, which strips away all non-essential functionality from ES v1, while creatively laying out the retained functionality, including the processor, memory and driver software, to meet the smaller space requirements of a ring. The benefit of this approach is that it allows us to extensively reuse the ES v1 software in the ES v2 implementation. We also researched, tested and selected a new battery to help reduce the size of the ES. And, finally, we designed a new wireless charger to charge the mood sharing ring's selected battery.  
All of the AquairiusTM Mood Sensing Rings are designed around the ES v2. The first mechanically complete mood sharing ring prototype, which accommodates the ES v2, was produced during the second quarter of 2017. See Image Set (4) below. The mood sensing ring prototype validates important design decisions, including the mass, weight, size and strength of the ring chassis.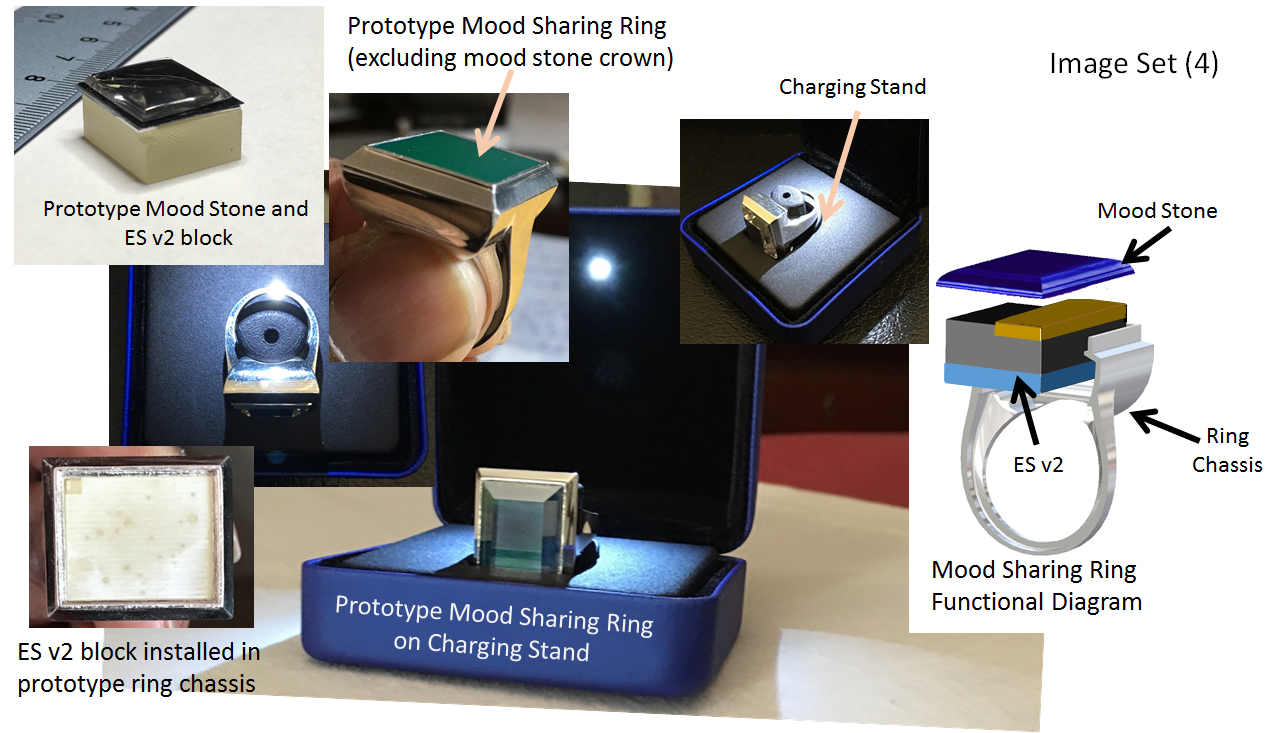 Team Members
As one can imagine, a project of this scope requires a core team with a broad range of expertise. The Emotion Mood Sharing Jewelry team members for the mood sharing ring project are Tony Clark, John Jurgensmeier, Brian Powell and Vasken Tanielian. Collectively, Tony, John and Brian have more than 100 years of experience regarding the delivery of high tech products and services.  And, Vasken has four decades of jewelry design experience.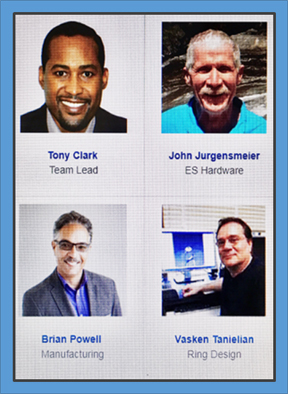 Emotion Mood Sharing Ring Team Members
Tony is the founder of and project leader for the mood sharing ring. He has his fingers in most aspects of the project, including defining the overall system level architecture and protocols; project management; product management; product marketing; social media marketing; development of the proof-of-concept prototypes; and device, backend and app software development. Tony is the inventor of the MSSD technology: the technology underlying the mood sharing ring. He is a 24 year veteran of Silicon Valley and has more than 30 years of high tech and hands-on operational experience. Tony is the Founder, Chairman and CEO of 2-Dooz Inc. Tony received his BS Engineering and Masters of Engineering degrees from the school of Electrical & Computer Engineering at Cornell University. 
John is the hardware designer for the electronics subsystem (ES) version 2 (ES v2). He has more than four decades of experience designing and developing electronics, especially regarding communications networking and high end computing systems. John's ES v2 design is essentially a tiny computer, which comprises a processor, memory, sensor, wireless charging and wireless communications technology. The ES v2 is the successor to ES v1—the version of the electronics subsystem used for the prototype mood sharing bracelet. John's design allows the ES v2 to fit inside the mood sharing ring's chassis. This required reducing the volume of the original ES by 80%. 
Brian is responsible for coordinating and managing the supply chain regarding the manufacture of our lineup of Emotion Mood Sharing Jewelry rings. Brian also owns the fulfillment processes for all Mood Sharing Rings including receiving and performing quality inspections for finished goods; retail packaging; shipping of jewelry; and authorizing and handling returns. Brian also designed the mechanical enclosure which houses the mood sharing ring's charger. Brian is academically trained as a mechanical engineer; having received his Bachelor of Science, Mechanical Engineering degree from Cornell University. Brian has nearly 30 years of experience as a reliability engineer, study leader and project engineer regarding large scale manufacturing. 
Vasken is the lead designer, responsible for all of the aesthetic aspects, in other words, the physical look and feel of our Mood Sharing Rings lineup. Vasken began designing jewelry, after dropping out of architecture school, under the tutelage of master goldsmiths and designers Edward and Arnock Sutrukian, in the late 1970s in Paris, France. Vasken has worked all over the world, including in Paris, Los Angeles and San Francisco. His many projects and years of experience have allowed him to perfect his design and mold making skills. In spite of a super busy schedule, Vasken also manages to find time to teach and mentor future jewelry designers.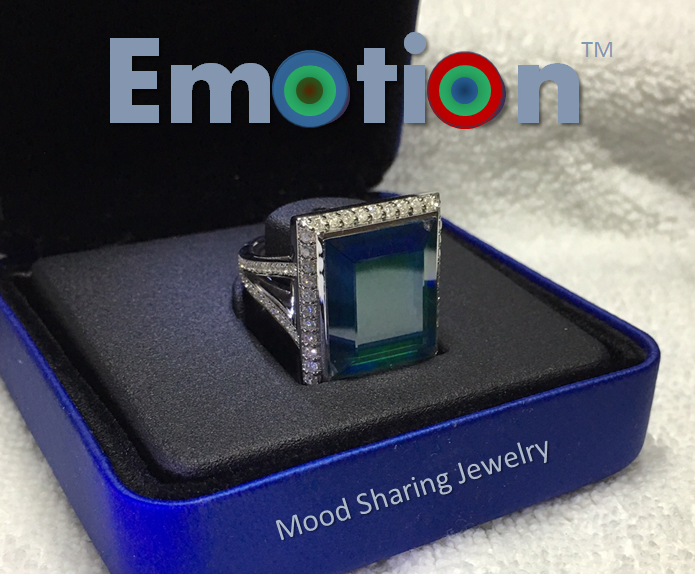 White Gold Mood Sharing Ring
Emotions make us human. They are essential to how we connect. This simple truth drives our vision of the next stage of the Internet, an Emotive Internet, which is less about things and, instead, is about expressing how we feel. We envision an emotionally intelligent network where biosensors and software algorithms combine to enable the real-time sensing, recognition and sharing of human emotions. Our mission is to accelerate the realization of the Emotive Internet. Mood Sensing Rings are an important step in accomplishing this mission.  Share Your Mood.