About
The following is a summary of the Emotion Mood Sensing Ring journey as of August 5, 2020.  This section of our site will be updated as we clear each new major project hurdle.
Our Story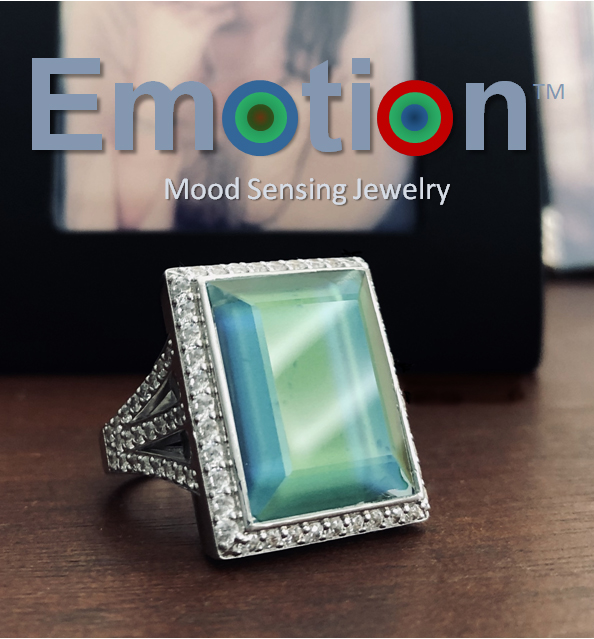 Platinum Mood Sensing Ring
Inspired by our vision of the Emotive Internet, wherein biosensors and software algorithms combine to enable the real-time detection, recognition and sharing of human emotion, Emotion Mood Sensing Jewelry creates high-end and ultra modern jewelry which is powered by Mood Sensing Sharing Device (MSSD) technology (as defined in Patent No. 9,064,390, June 23, 2015, titled "System and Method for a Novelty Mood Sensing Sharing Device").
Our iconic Emotion Mood Sensing Jewelry™ starts with something old and adds a large dose of today's technology to make something that is altogether new.  Emotion Mood Sensing Jewelry combines the circa 1970 mood stone with today's wireless, sensor and mobile apps technologies to define an entirely new wearable market segment.
Our Mood Sensing Rings connect to smart phones and other similar devices to power an emerging category of software called emotive apps.  Emotive apps better understand our needs and by doing so make our smart devices exponentially more useful.  Example emotive apps include video games, which adjust in difficulty based on the emotional state of a player, and music players which change their playlist order based on a wearer's current mood.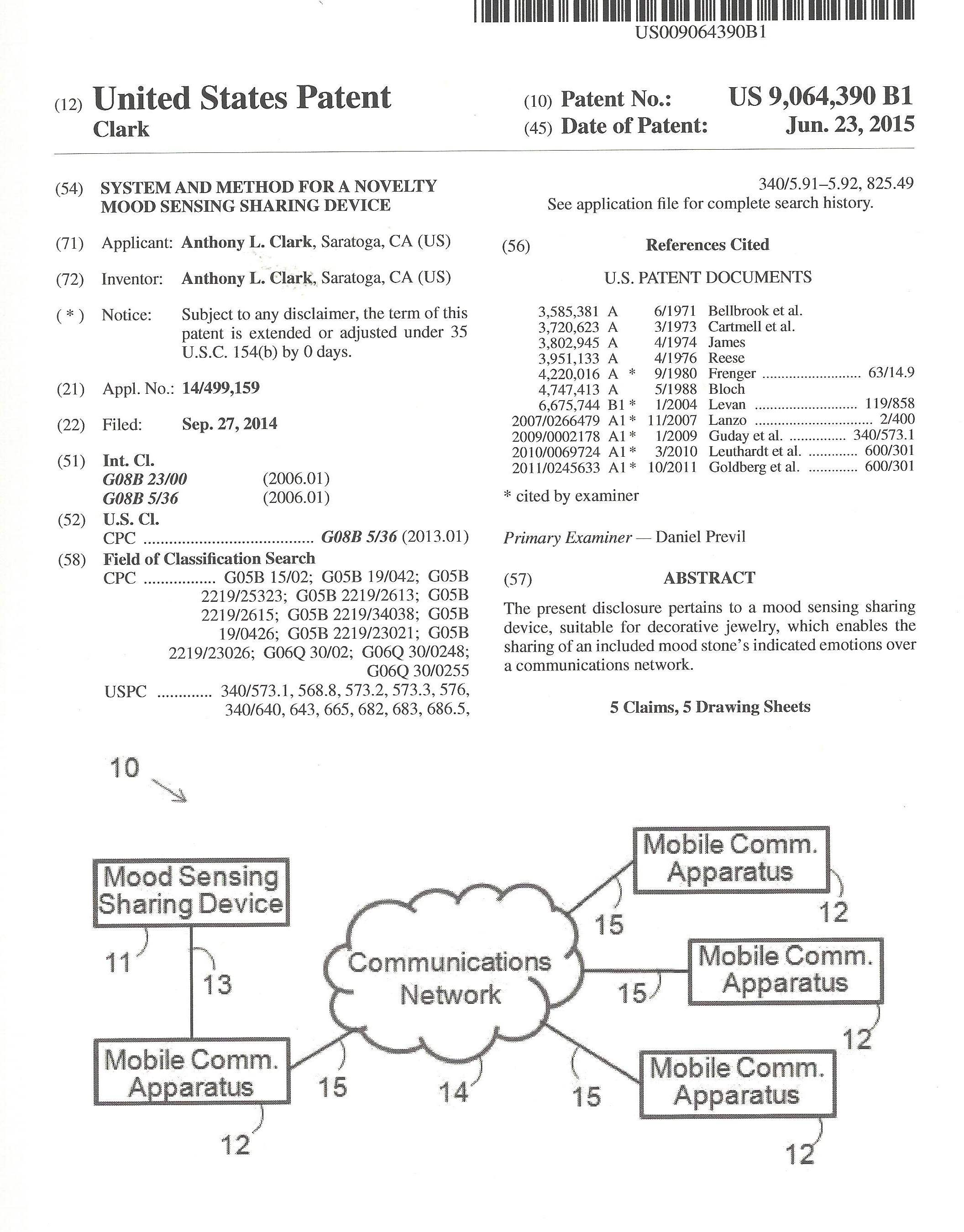 Mood Sensing Sharing Device and System Patent
Launched in 2018, our Aquairius™ Mood Sensing Rings blend precious metals, crystals, silicon and software to create truly stunning, statement-worthy pieces.  These first of their kind, handcrafted, 21st century emotion-aware rings are available in two metal types: platinum and gold.
The top of the line Aquairius Platinum  Mood Sensing Ring, having a suggested retail price of $23,493, combines a diamond studded platinum setting with a sapphire gemstone topped MSSD.  The ring features 27 grams of solid platinum, 1.35 carats total weight of diamond accent gemstones and a 21 carat eco-Sapphire mood stone.
The Aquairius Gold Mood Sensing Ring features 16 grams of 14kt solid white gold, a 21 carat eco-Sapphire topped MSSD, and 1.1 carats total weight of accent gemstones.  The diamonds accent version of the ring has a suggested retail price of $9,230 and the simulated diamonds accent ring has a suggested retail price of $4,988.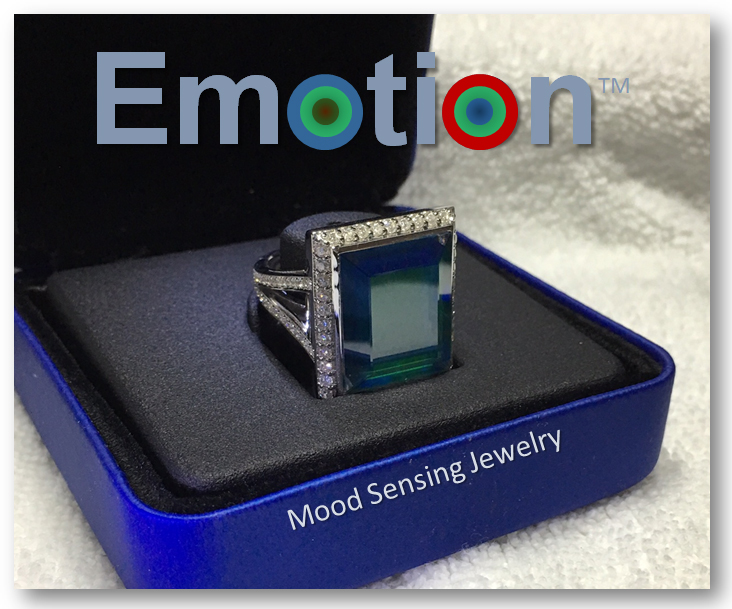 White Gold Mood Sensing Ring
Each mood sensing jewelry design contains an MSSD, comprising a mood stone and an electronics subsystem (ES)—consisting of one or more biosensors, a microprocessor, memory and wireless connectivity.  The MSSD provides Bluetooth® communication with paired mobile devices running emotive apps. Onboard sensors allow the MSSD to sense an accompanying mood stone's color / emotion state. 
Smaller than a quarter, our latest ES, version 2.x, is the brain that powers each of our mood sensing jewelry lines, including our newest J2™ Smart Ring, which is targeted to makers and tech influencers, at a fraction of the cost of an Aquairius Mood Sensing Ring. The ESv2.x was preceded by the ESv1, which was the first to power our proof-of-concept Mood Sensing Bracelets in 2015. 

 
ESv2.x
In Disney's "The Force Awakens," Maz Kanata instructs Rey about the nature and use of the force: "Close your eyes.  Feel It. The light…it's always been there.  It will guide you."  To wield the force, one must feel it.  The same is true for developers and makers.   To create compelling user experiences, a maker must be able to feel what an intended user should feel.   To fully imagine, define and test an overall user experience, a developer must be immersed in the intended experience.   This simple, yet powerful, insight was the motivation for the J2.
We concluded that before we could create irresistible mood connecting experiences, each member of our core development team would need to have a firsthand experience of wearing a mood sensing ring.  The problem was the following: though our Aquairius Mood Sensing Rings are extraordinary beautiful, none of  us could could imagine such a glamorous, statement worthy ring every day.  
So, we thought, "no biggie, let's just create a mood sensing ring that our core developers could wear then."  However, coming up with a design, that we each could commit to wearing in public, proved much more difficult than we initially thought.  We internally debated for months, and only after what seemed to be a countless number of iterations, we finally agreed on a design which we internally designated J2.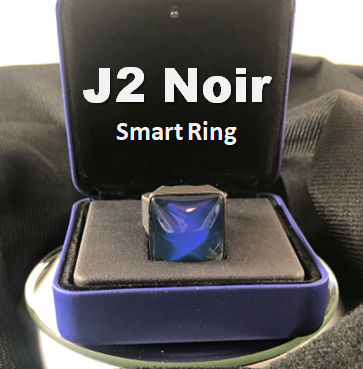 J2 Smart Ring
The J2 name deserves its own back-story.  It turns out that part of the difficulty in coming with an agreeable design was that we had to come up with something that our hardware lead, John Jurgensmeier (J2), would wear.  John wasn't born last night, and in all that time he has refused to wear a ring—any ring.  And, for those of you who are thinking, how can a guy who has never worn a ring be a key contributor to a project that is mostly about jewelry rings?  My response is valid question; though I prefer to focus on the fact that we actually came up with a design that a tech developer, whom had never previously worn a ring in his life, now wears.  
We love that the J2 is light weight, ultra modern and distinctive looking.   Our favorite version is the J2 Noir, because it is both rugged and elegant; thanks to the chassis being 3D printed in carbon fiber.  Like all of our MSSD based Rings, the J2 is internally powered by the ESv2.x.  

John Jurgensmeier (J2) and Jeremiah Bull Frog
The J2 Smart Ring optionally pairs to our J2StressMonitor App, to track and alert a wearer of their current stress level.  When in the foreground, the J2StressMonitor App echos the J2 Smart Ring's mood stone color and presents a message that is indicative of the wearer's stress.  And, when the J2StressMonitor App is in the background, system notifications alert the user to the occurrence of "High" levels of stress.  The J2 Smart Ring and J2StressMonitor App enable the earlier detection, quicker mitigation and faster resolution of stress.
Emotions make us human. They are essential to how we connect. This simple truth drives our vision of the next stage of the Internet, an Emotive Internet, which is less about things and, instead, is about expressing how we feel. We envision an emotionally intelligent network where biosensors and software algorithms combine to enable the real-time sensing, recognition and sharing of human emotions. Our mission is to accelerate the realization of the Emotive Internet. MSSD based smart rings are an important step in accomplishing this mission.
Stayed tuned to this page for future announcements as we make progress towards the achievement of an Emotive Internet!